All the best equipment
Our workshop is fully equipped
Massive selection of tyres
We keep a large stock of all the popular tyres
Welcome to A1 Black 'n' Round
Tyres are what we know! If you need new tyres, a puncture repair or wheel alignment, then you can't do better than A1 Black 'n' Round, Thanet's one stop tyre shop! We stock a wide range of tyres, and are happy to offer you free and impartial advice, to ensure you make the best choice. We also offer a no obligation wheel alignment check. We have a comfortable reception area, where we offer complimentary tea, coffee and wifi, and a floodlit yard to ensure the wellbeing of all our customers. If you are looking for a competitively priced service centre with friendly, fully trained and efficient staff, who are willing to go the extra mile, then look no further!
Read More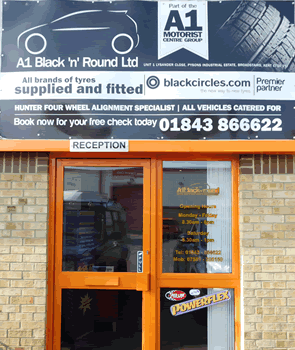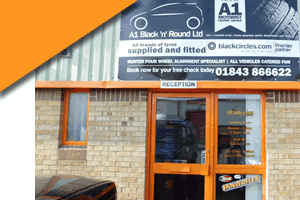 A1 Black and Round
Our new purpose-built premises offer us an excellent space to work in and store our large selection of tyres, while giving you a comfortable waiting area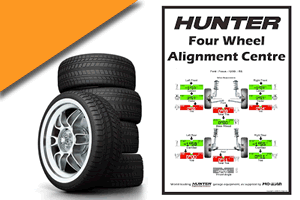 Hunter 4 Wheel Alignment
We are proud to be a Hunter 4 Wheel Alignment Centre, to ensure we offer the very best in wheel alignment services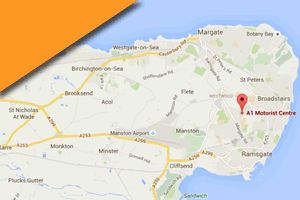 Thanet Tyre Specialist
We serve the Thanet towns of Margate, Ramsgate, Broadstairs in East Kent, for all your tyre replacement, repair and alignment needs.
Very polite, efficient and quick service - with free coffee.
18/11/2015
Everything ran smoothly and they were very professional.
09/09/2015
Very friendly staff, I arrived earlier & was offered coffee& fitting was soon started. All the staff were smart, clean & polite, any questions were answeredin a friendly & very chatty way. All four tyres were fitted within an hour but would have been quicker if we hadn't joked around so much! All in all, was well pleased & will recomend to friends & people i don't kno!w!. Pleased to have found Black Circle to supply & fit my four tires, a great pice & a great service, thanks.
19/08/2015
Testimonials
All these testimonials are given impartially through the Blackcircles.com, and can also be viewed on their website.