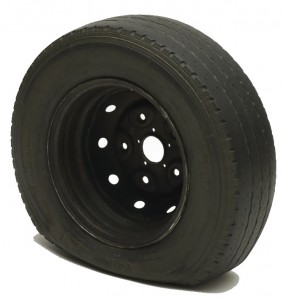 Puncture repaired in record time at a great price – thank you A1 Black 'n' Round!
Nothing can ruin a day quite like a flat tyre!  Sometimes it won't be fixable and you'll need to purchase a whole new tyre (click here to find out more about our selection of tyres), however if it can be repaired, then rest-assured we will do just that, quickly, efficiently and affordably. We offer puncture repairs, bead seals and valve replacement from £10, and can arrange wheel refurbishment for badly corroded rims.  So if your tyres are losing air, please come and see us!  Find all our contact details here.
Flat tyre advice:
You shouldn't ever try to drive on a flat tyre.  If you have a slow puncture, then please re-fill your tyre with air before driving over to us, assuming it will stay inflated long enough to make the journey.  If it is completely flat, then you should put on your spare tyre (find a guide on Blackcircles.com here) before bringing the tyre in for repair or replacement.  If you drive a BMW or a Mini, you will likely have run-flat tyres, which will allow you to drive to us for repair (please follow advice in your user manual).